Reimagine Telecom – Discover Stories of Digital Transformation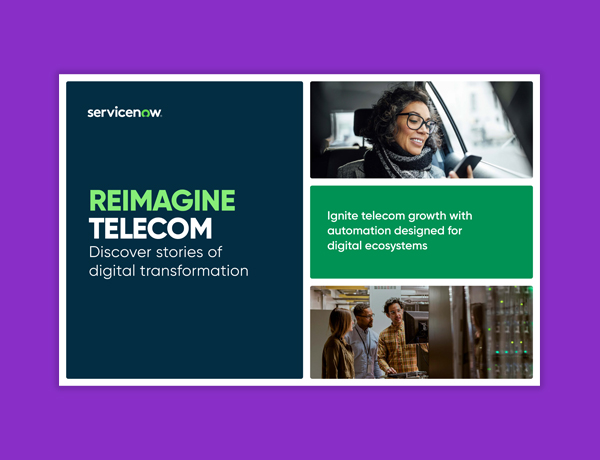 Communications service providers (CSPs) are implementing unprecedented levels of adaptability and agility into their infrastructure as a result of shifting network requirements. CSPs are looking to modernize and reinvent their processes, tools, and attitude in order to drive innovation and make the promise of 5G a reality.
ServiceNow's single platform streamlines the interconnection between customers, functional teams, and their partner ecosystem—to ignite agility across the business.
Download this white paper as it helps telecom providers leverage digital tools to accelerate growth in a changing market.
Sponsored by: ServiceNow
This page is FastPass tested and is compliant with Microsoft Accessibility features.
Get Exclusive Access to the White Paper
20101
By downloading this publication, you understand and agree that you are providing your personal information to Anteriad, LLC, and Anteriad may share your personal information with ServiceNow, pursuant to Anteriad's Privacy Policy. Furthermore, ServiceNow may use your personal information to provide you with marketing materials and contact you regarding its services, pursuant to Privacy Statement.
Reimagine Telecom - Discover Stories of Digital Transformation
20099